NomNomNom – Experiment 1: Yorkshire Pudding
I've used NomNomNom as an excuse to do some experimentation. Not that interesting experimentation for most people, but I will have my fun.
So experiment #1 is a dish that I have never cooked before, and one that after specific contemplation I've decided that I don't like on an intellectual level, but after eating have discovered I actually do. The food – the humble Yorkshire Pud.
It's eggs, flour, water and milk, fried/roasted in the oven. It should taste of fried wallpaper paste, but for some reason it tastes of Sunday Roast and Good. Somehow I've managed to avoid cooking it before so I thought I'd have a few goes before NomNomNom.
However, one question stuck in my mind – how do I make a yorkshire nice and light and fluffy, rather than the usual sunk in the middle slightly sad looking pudding, and do I actually want to?
Hooray for chemical leavening agents! Baking powder makes everything light and fluffy!
I based both of my pud experiments on The Evil Queen's recipe, which is rather simple. Here's what I did:
Ingredients:
3oz Plain Flour (+2 small tsps of baking powder for experiment #2)
3fl.oz. Milk
2fl.oz. Water
1 Egg
Seasoning
Oil (Delia says beef dripping, I used veggie oil because I haven't dripped any beefs recently)
How: Put the flour in a bowl, make a well in the middle and break the egg into it. Beat the egg and gradually incorporate the flour. Add the milk, mix and add the water. Season. Pour a good chunk of oil into some kind of dish (I used a 9″ pie tin) that will survive being put on a stovetop and stick it into the oven at about 250degC (the temp that I do the initial cooking of roast beef). Wait until the oil is really hot and then take out the dish, stick it on the stove to keep warm and pour in the batter (which will fry on the outside). Stick back in the oven, turn down to 150degC after about 10 mins and then cook for a further 40-45 minutes (to match up with 20 minute sizzley cook, 35 minute cooler roast and 10 minute rest I did for my beef). Eat.
The pud without baking powder was a classic yorkshire pud – it rose nicely, went crispy on the outside and sank in the middle the moment I took it out of the oven. It was good and crunchy as well as a little bit soft in the middle – although only in a thin layer. Yorkshires are much easier than I thought, and if I make a good gravy one day then I think I'll be making old skool yorkshire again.
Experiment 2 was quite different. It looked different while cooking and, as expected, rose a lot more than experiment 1. I didn't cook it quite as long as before (I was hungry and there was duck involved) but that didn't seem to matter much – the outside was crunchy as before but the middle was thicker, soft and puddingy – just thing to mop up gravy. I liked it, but it wasn't a trad pud – too thick and spongy.

Experiment 2
We made both at NomNomNom – a bit of a hedged bet as well as a chance for me to have a munch again. In the end we went with experiment #1 for the judges – it rose magestically (causing the staff of The Cookery School to grab me and excitedly point at it through the oven door) while #2 stayed resolutely low (although it was rather tasty, if slightly overseasoned, and had the bungey texture of kimchee pancake, without the kimchee, that I liked so much in my experimental version).
The judged one seemed to work rather well: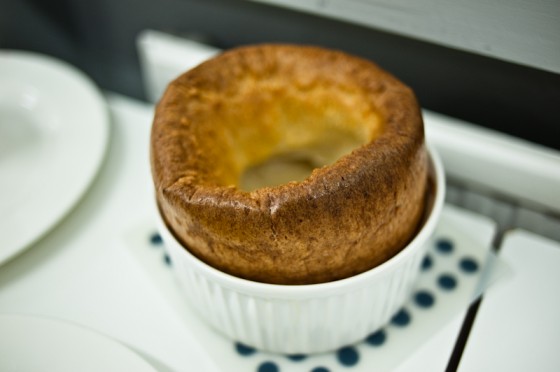 Photo by Kang from his post about NomNomNom.
Either way, more pud with more seasoning than just salt and pepper is on my list for the future.
Posted: July 13th, 2009 under blog.
Tags: #nom, food, nomnomnom, recipe, yorkshire pudding
Comments
Write a comment