NomNomNom – Team Cowfish and Eater: The Day of Cookening
Sunday July 12th was the fateful day where my experimentation ended and I had to dance like a performing monkey for the pleasure of the assembled judges. Well, more 'buy ingredients and then cook a meal', but an opportunity to compare myself to a performing monkey is not one that I will often turn aside.
So, I rocked up bright and early, hating the universe and surviving mainly due to a combination of Irn Bru and residual drunkenness – note to self, do not drink heavily before an early Sunday appointment in a warm kitchen. Having spent several weeks claiming that The Cookery School was in Borough I was pleasantly surprised to find that it wasn't, and was actually conveniently located somewhere that I knew. The kitchen filled quickly, although there as at first no sign of Kang, my partner in crime for the day. Email based silence had convinced me that he had died in some freak spaghetti related incident and images of various kinds of horrific death filled my fairly muddled brain until he wandered through the door and did some grinning – laid low by illness, work and internet drama he had fallen behind on life, but was now back in the saddle and ready to cook.
The Law was laid down – 90 minutes to buy ingredients; 2.5 hours to cook and plate; judging would then commence. A shopping list was made, a list of store cupboard ingredients wrangled from the list and handed to the staff, and we were off. Luckily the combination of my iPhone and a half remembered memory of La Fromagerie kicked us in the right direction, and Kang and I wandered Marylebone High Street-wards, bonding over the joys of Sushi Hiro, while I gushed about my hero worship of St Heston of Bray. We arrived at the market and consulted the list of powah:
Menu (as submitted to NomNomNom)

Starter: Game Salad (or something else if we can't find any game. Maybe scallops or something)
Main: Roast Beef with a number of items that are sometimes known as trimmings
Dessert: A Trio of Granita
We had been given a mission of trying to make our food as seasonal and sustainably sourced as possible, with an extra caveat that one course must be entirely uncooked, hence our menu, with handwavy extensions to the course titles in case of unavailability, and its focus on simple and easy to find seasonal food, with a uncooked frozen dessert.
We entered the market, AKA the Waitrose carpark, and started our trawl. First up on the list was our trimmings. Other than roast potatoes (Romano pots obtained on the advice of the potato man) and Yorkshire Pud (cf my experimentation) we needed some veggies to accompany the main. Our initial plan of asparagus was thrown out as it seems we missed the season by a week, so after grabbing our other planned veg, peas and carrots, we kept an eye out for something interesting.
Kicking that mission to the side we turned to salad, finding radishes and a stall entirely filled with leaves. The nice man let us do some tasting and we ended up with a mixed bag of wild rocket (very peppery), sorrel (nicely lemony) and land cress (like a super-watercress with a big punchy flavour) to accompany our game. We put the market behind us for a bit, with a planned focus on Waitrose for our tropical fruit for the granitas and additional vegetable, and wandered up to the Ginger Pig.
Confronted by racks of hanging cow I was slightly overawed as Kang nipped around shooting pictures. I lost my place in the queue and by the time I spoke to the butcher I had regained my composure. My request for a rump roast was met with disapproving shakes of the head and I was recommended instead a nice looking bit of topside, a plan that I thoroughly endorse.
Next on the list was some cheese to top our salad. We were thinking of something similar to parmesan, but put the decision into the hands of the man at La Fromagerie, who pointed us towards a Sardinian Pecorino of rather excellent quality, a slice of which quickly went into our bag ready for later crumbling.
We jogged round the corner to Waitrose, my toxin addled brain thinking we had a mere 15 minutes remaining, rather than the 45 we actually did, to find it closed. A rethink occurred and we mosied back to the market, only for Kang to point out my foolishness when he looked at his watch rather than relying on my broken time sense. However, the return to the market gave us the two remaining pieces of our menu – our game and fruit.
We couldn't find any game, so after a short conversation with one of the stallholders we came up with enough justification for some ducks being referred to as game and bought a smoked duck breast to accompany our seasonal salad starter. Fruit-wise the plan changed when we saw what was on the stalls – punnets of strawberries, blackberries, raspberries, blackcurrants, gooseberries and cherries everywhere. We settled in the end on raspberries, blackcurrants and gooseberries for the colour contrast, loaded up our bags and trudged back to the Cookery School, with a quick detour to Waitrose for some mint, purple sprouting broccoli and a lemon, ready for the start.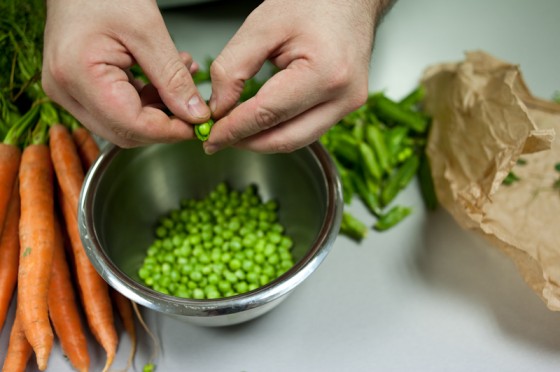 Photo by Kang
Final instructions were given, and we were off. We started with preparing our granitas, as they would potentially take all of the cooking time to freeze. Luckily, as detailed in my post on the matter, there was a blast chiller hidden under the work surface and all was well. We then started on preparing the veg, shelling peas, trimming broccoli, chopping carrots and peeling potatoes. The potatoes went into some salted water for a quick parboil and at the same time a tray of oil for them went into the oven at 250degC to heat up. Everything else was pushed to the side and we prepared the beef – there wasn't much to do apart from season it and stick it in the oven, accompanied the potatoes, which had been added to their hot oily tray and tossed around a bit with a quick sprinkle of salt. While they cooked we mixed up our Yorkshire Pudding batter and when we turned the oven down after 25 minutes the puds went in.
With most things on the go, the carrots went into a pan of butter on a very low heat, to slowly poach away and turn into items of pure awesome (a recipe courtesy of Le Blumenthal – the easiest in any of his books) and we turned to salad tests.
Having not made our salad before and also having been confronted by one of the most flavoursome bags of salad leaves I have encountered, Kang made the sacrifice of trying out some variations of our salad to see how it should go. In the end a balance was reached – a lemony balsamic dressing with a small pile of leaves, thinly sliced radishes sprinkled on top and a crumbling of pecorino. After a bit of confused sniffing, asking of opinions and tasting it was decided that our smoked duck breast, to a mild annoyance, didn't need cookin,g giving us a tasty sliceable item to be served up cold with the leaves.
It was at this point that things got busy.
The beef came out, the peas went on, the broccoli went on top of the boiling pan in a colander to steam. The meat went to rest, the pan got deglazed and I started trying to construct a gravy. Kang started plating, dropping the granitas into shot glasses and arranging salad and duck on a plate ready to go upstairs to the judges. A brown liquid that looked vaguely gravy-like sat in a pan and I carved a few slices of beef onto our serving plate. I decanted some peas and broccoli onto the plate and reached for the carrots. They were raw. Raw, warm and covered in butter – not a bad situation, all things considered, but not the silky soft buttery carrots that we intended. It seems that my lack of experience using anything but a gas hob meant that I'd got the temperature wrong and thus would be sending the judges some 'al dente' carrots. This was noted in the report on our food… Kang rushed up the stairs and after applying a drizzle of gravy I turned to follow, only to be called back to the kitchen by Marcella, the fantastic kitchen assistant who threw pots, pans, spoons and knives in my direction whenever I needed them during the day. She pointed to the ovens containing not only my rather excellent roast potatoes, but also Kang's impressively risen yorkshire pud. Disaster averted, the plating was completed and the food presented to the judges:

Picture by Chris Osburn
We didn't win, although I heard that our beef went down well, with the remains disappearing alarmingly quickly when the rest of the food was arranged for us mere participants to sample. Food was eaten, wines (courtesy of NakedWines and Nathan McLellan, who selected a rather nice Ocasa Bonada Syrah to accompany our menu) were drunk, goodie bags given out and, after a bit of prize giving, we adjourned to the Match Bar, were I got thoroughly pissed.streaming Teen Titans: The Judas Contract film
As a followup there's a charity raffle, in aid of Action Against Hunger, with a pile of the prizes that they didn't let near the winners up for grabs. There is also a viewer's choice award with voting open to you, the lovely people who are reading this. Tell your friends! Vote Cowfish and Eater! For glorious victory!
Posted: July 16th, 2009 under blog.
Tags: #nom, cookery school, food, ginger pig, la fromagerie, londoneater, nomnomnom09
Comments
Write a comment